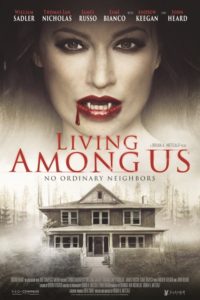 Found Footage Critic is pleased to announce that the vampire mockumentary Living Among Us has been slated for a US theatrical release.
The film, which looks a bit like a more serious version of What We Do in the Shadows,  is directed by Brian A. Metcalf (The Lost Tree). You can check out the trailer for yourself in the player below.
Living Among Us stars the late John Heard (Would You Rather), Ésme Bianco (Game of Thrones), Andrew Keegan (The Halloween Tree), and Jessica Morris (Puppet Master: Axis Termination). This marks John Heard's final feature film role.
Living Among Us is slated to hit select theaters next month. It will open in ten US cities beginning  Friday February 2nd, 2018. Stay tuned to the site for our review of the film in the near future.
Living Among Us follows a documentary film crew cozying up to a family of vampires to observe their day-to-day lives. Naturally, the crew quickly discovers that they may have bitten off more than they can chew.
Check out the trailer for Living Among Us: