Earlier this week I was approached by Director, Michelle Nessk, with a teaser trailer for the new horror/sci-fi found footage film O. Unilateralis, scheduled for release in 2016. From watching the trailer, we learn that O Unilateralis has an alien element at play as well as a global government conspiracy, two plot elements that never grows old in found footage films.
The trailer introduces us to the three main protagonists on their way to a weekend camping trip until they approach a police blockade cordoning off the area. Intent on reaching their destination the group finds an alternate route, and from what little that's revealed in the trailer, all hell breaks loose for the trio as they encounter something they weren't meant to see – O. Unilateralis, has an intriguing setup for what's shaping up to be a great story.
The official O. Unilateralis press release reads:
"Bellingham, WA: M. Nessk, alongside fellow filmmaker Bruce H. Bosley have began production of their first feature film in collaboration with one another, "O. Unilateralis," a horror film based on the recovered footage of three vacationers in the Pacific Northwest who journey out into the wilderness and unwillingly find themselves at the center of a massive global conspiracy.  The film combines found footage horror with actual events and presents it in a "burn this letter" type of format that Robert Ripley would have loved to have covered.  Nessk and Bosley, the producers and directors; are currently raising funds via Indiegogo to complete production… [The Film] is slated to screen at Crypticon Seattle in Spring 2016, one of the largest horror conventions in the Pacific Northwest as part of the annual showcase: Horrors of the PNW."
Adding more tidbits of information, the official O. Unilateralis synopsis adds:
"O. Unilateralis is a horror film based on the footage captured by Troy Murphy, Keith Lewis, and Abigail Wallace, three sightseers on a camping trip who unwittingly become part of a horrifying global conspiracy.
"This film will be done in the first person perspective. With O. Unilateralis we tackled a multitude of horror genres within one story, and we believe we have built something of a fun conglomeration to keep our viewers guessing until the end. This project is very close to our hearts. With the aid of our third member, Danial Fields, we have written a cohesive piece that we feel is going to be entertaining and suspenseful. We've had our peer-reviews on the script, and we have managed to get some fantastic feedback from some amazing people in the film industry and have received great encouragement to take this one all the way.
"This project is most certainly a labor of love. We are excited because this is going to be a new take on some beloved horror tropes."
I had a chance to catch up with Director, Michelle Nessk, who said the film is shot entirely as found footage and the plot is loosely based on "real events that took place in 2012," further adding to the intrigue behind O. Unilateralis. Michelle Nessk also indicated that the film is not fully funded – so if you're a fan of found footage films or simply enjoy horror/sci-fi, please visit Indiegogo O. Unilateralis (O.U. – The Conspiracy Index #8472) and show your support for this indie film project. Every dollar that comes in will go towards making this film what it's meant to be.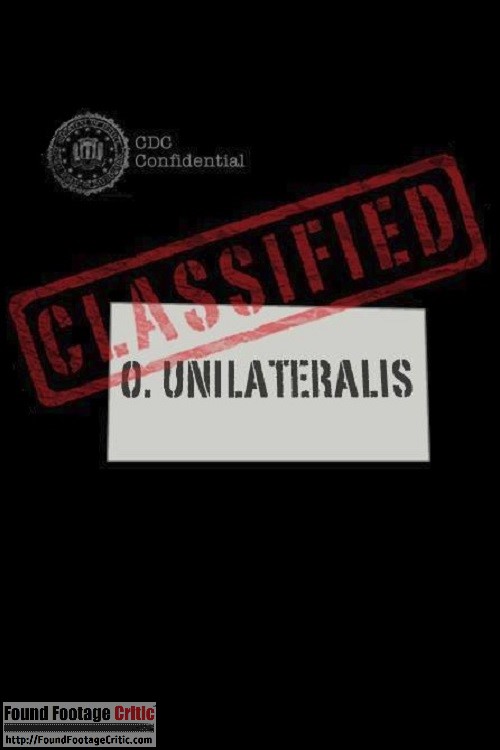 O. Unilateralis is directed by Bruce H. Bosley and Michelle Nessk and produced by Gloomy Sunday Productions and Waterfall Ranch Studios. The film stars Michelle Nessk, Bruce H. Bosley, and Danial Fields.
FFC will be keeping track of this latest addition to the found footage genre, so check back with Found Footage Critic for future updates on this film.
For more information on O. Unilateralis: