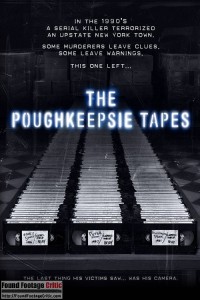 Found Footage Critic is pleased to announce that The Poughkeepsie Tapes 2007 is available on physical media at long last. While the feature did enjoy a VOD bow a few years back (courtesy of DirecTV), the film's recent Scream Factory release marks the first time the picture has been available on physical media.
Seeing as how The Poughkeepsie Tapes was shelved by MGM back in 2007, the news of its long-awaited release is more than welcome. The Scream Factory site has the feature available as a Blu-Ray/DVD combo pack for $23.99 as of the drafting of this post.
If you haven't seen The Poughkeepsie Tapes, you may want to get your hands on a copy. I count it as one of the most disturbing and eerie films I've ever seen. You can check out our review right here.
The Poughkeepsie Tapes was written and directed by John Eric Dowdle with his frequent collaborator and brother Drew Dowdle getting a 'story' credit. The pair also collaborated on the found footage films As Above So Below 2014 and Quarantine 2008. 
The film follows the exploits of a serial killer who was active in upstate New York throughout the '90s. The killer captured evidence of his crimes via home video recordings. The terrifying story is told through the aforementioned recordings, news footage, and a series of interviews with parties familiar with the case.