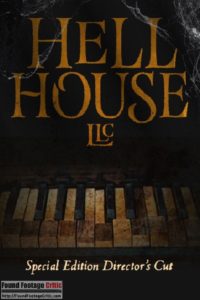 On October 1st, Hell House LLC fans were rewarded for their patience with the release of the Hell House LLC: Director's Cut DVD. This special edition of Hell House LLC is a DVD-only release assembled by director Stephen Cognetti. The DVD contains an extended length version of the film, director's commentary audio track, and almost 30 minutes of bonus material.
The extras include an insightful behind the scenes documentary, deleted scenes, and an unreleased movie trailer. Diehard fans of the film are sure to be swept away by the cast auditions, offering an additional glimpse behind the curtain as to what made Hell House LLC such an amazing film.
The extended length feature film is among the more significant draws of the DVD, which includes more character development and other scenes that were cut for time, pacing, and budget. Then there's the crème de la crème of the Hell House LLC: Director's Cut DVD, more basement footage providing a glimpse as to what happened during that infamous night in the Abaddon Hotel.
In an interview with Found Footage Critic director Stephen Cognetti said, "the way the chaos in the basement was scripted had a lot more going on than what was included in the final cut…We shot a lot of green screen with Lauren Kennedy (Melissa) with the hopes of showing more of what happened…However, for many reasons including budget, the scene's full scripted vision was never fully realized. We recently blew the dust off the original green screen footage and have since been working with an amazing visual effects artist to bring out some of the crazy shit that was going on in the basement."
The Hell House LLC: Director's Cut is a DVD-only release. The DVD is available now for purchase at https://hellhousellc.com.
Click here to own the Hell House LLC: Director's Cut DVD