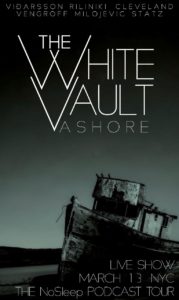 Found footage audio drama The White Vault is gearing up to take the stage in New York City. The podcast will will be performing a rendition of their show opening for the NoSleep Podcast at a live show in New York City. The event will take place at The Highline Ballroom on March 13th, 2018. The cast will be performing a brand new prequel episode which will take place off the coast of Ny-Ålesund.  Cast members from Iceland, Germany, and the UK will be ascending upon NYC to bring the story to life.
As of this posting, tickets to the live show are available right here! This event is part of the NoSleep Podcast's nationwide 'Escape the Black Farm' Tour.
The show is the brainchild of Kaitlin Statz, who also writes the program. The show is 100% fan supported. The creative team is preparing to release a Patreon-only story which ties into the White Vault story.  You can check out the team's Patreon page here.
"The White Vault is a new found-footage audio drama that explores the world's horrors through the collected records of a repair team sent to a remote outpost in the Arctic. It's a free podcast you can listen to on iTunes, Spotify, or whichever podcast service you use. The show was created by an international team of unknowns with no budget."