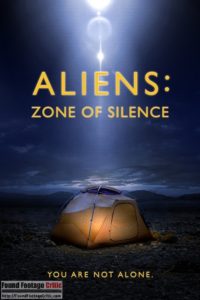 Found Footage Critic is pleased to report that the groundbreaking found footage film Aliens: Zone of Silence (2017) has just made its debut on Netflix.
If you haven't had a chance to check this one out, you can have a look for yourself right here. And if you haven't already done so, you can read our rave review of Aliens: Zone of Silence right here.
Aliens: Zone of Silence was helmed by first time director Andy Fowler. Prior to his directorial debut, Fowler worked behind the scenes as an effects man on films like 300 (2007) and San Andreas (2015).
Director Andy Fowler co-wrote the screenplay for the film with Fidel Arizmendi. Sarah Hester (American Satan 2017) stars.
The film follows Morgan (Hester),  a woman looking for answers regarding her brother's mysterious disappearance from the Mexican desert. What she discovers about her brother's unexplained departure is more shocking than anything she could have ever imagined.