Found Footage Files Podcast – Found Footage Film Reviews, Interviews, and Lots of Fun!
Special thanks to Bos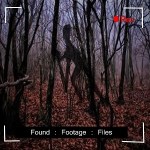 s Butcher, the host and founder of Found Footage Files Podcast, a weekly podcast dedicated to Found Footage films. FFC would not be where it is today without Boss Butcher's support and encouragement.  Thank you Boss Butcher!
Found Footage Files Podcast offers end-to-end coverage of feature films shot in the found footage genre.  Each episode is devoted to reviewing a specific found footage film, discussing the latest found footage film news, and acknowledging fan feedback from Twitter and Facebook.  The podcast series also includes interviews of found footage film cast and crew. Listeners are encouraged to provide their feedback and join-in on the fun. Boss Butcher is engaging and entertaining, and a true promoter of the genre – Found Footage Files Podcast a must for every true found footage film fan!
Listen and subscribe to the Found Footage Files Podcast:
Contact Found Footage Files:
Found Footage Critic Supporters