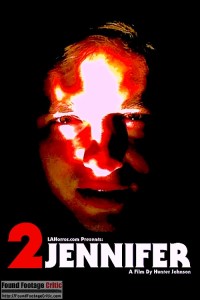 "2 Jennifer" is a found footage horror/comedy written by James Cullen Bressack and Hunter Johnson and directed by Hunter Johnson. The film follows the character Spencer, a not-quite-sane director who is trying to film the sequel to To Jennifer (2013).
The role of Spencer is played by actual director Hunter Johnson. If this is not confusing enough, 2 Jennifer also stars James Cullen Bressack and Jodi Barton, whose characters meet a deadly demise in the first film, but play themselves in the sequel.
The obvious question that comes to mind is how can Bressack and Barton make reprisals in 2 Jennifer, playing themselves without confusing viewers and staying true to the story? Quite simply, 2 Jennifer starts off by having the characters acknowledge that To Jennifer is just a film, leaving the door wide open for previous cast to play themselves in the sequel. A similar approach is used in The Human Centipede II (2011), where the main character watches the first film and makes reference to cast members by their true names.
Getting our Jennifers Straight…
The first film, To Jennifer, follows Joey who films a road trip to track down his supposedly cheating girlfriend, Jennifer. Towards the end of the film we learn that Joey is insane and obsessed with Jennifer, whom he is not actually dating. During this first film, Joey effectively kills-off most of the cast, including Bressack and Barton.
2 Jennifer introduces us to a new character, Spencer, who is selected by Bressack to direct 2 Jennifer, the film we are watching. We learn from Spencer that he has a script and now needs to cast the lead role of Jennifer. Spencer's quest to find the perfect Jennifer is the main focus of this film. In a similar vein to Joey, the character of Spencer is also highly disturbed and equally obsessed with finding Jennifer.
Script in hand, Spencer hops on a plane to Los Angeles to meet his friend Mack (David Coupe), who agrees to help produce 2 Jennifer. Quite notably, when Mack first sees Spencer filming everything with his iPhone, he says "filming on an iPhone. . . no one is going to watch an iPhone movie, that's just not gonna happen at all." – providing fan service to those who watched To Jennifer.
Upon arrival, Mack recommends an actress named Emily that he believes is perfect for the role of Jennifer. In a gut wrenchingly funny scene, Spencer fervently says to Mack, "We have to cast a Jennifer to play Jennifer." Mack unsuccessfully tries to reason with Spencer, arguing "You think Jennifer Aniston only plays Jennifer?" Dismissing Mack's argument, Spencer sets up a casting call with an all-Jennifer lineup, scheduling 10 actresses named "Jennifer" to audition for the lead role in his film.
The Jennifer casting call scene is the heart and soul of 2 Jennifer. What more can we ask for than a lineup of ten actresses named Jennifer auditioning for the role of Jennifer, led by a mentally ill director obsessed with "Jennifers." This scene is the perfect setup for what plays out as some of the funniest moments in the film.
Without giving away too much, each Jennifer is asked to read the same lines during the audition:
JENNIFER: "What do you want from me?"
MICHAEL : "I want to slice you open Jennifer, I want to 
           slice you open and feel your insides in my 
           hand"
JENNIFER: "Help! Somebody help!"
With each successive audition, Spencer becomes increasingly unhinged and disconnected, to the point where he starts dismissing the "Jennifers" before they even have a chance to read – leading to some truly funny moments that you won't want to miss.
Near the end of the casting call, Spencer finally finds his perfect Jennifer (Lara Jean Mummert) for the film. As the production moves forward, the film takes a decidedly dark turn as Spencer's obsessions completely takeover.
Spencer sets up a casting call with an all-Jennifer lineup, scheduling 10 actresses named "Jennifer" to audition for the lead role in his film
Acting and Plot
2 Jennifer holds its own as a standalone film, but I strongly recommend watching To Jennifer first, as the back story sets up much of the humor and anticipation making for much funnier moments and a more enjoyable viewing experience. As the film progresses, it's not too difficult to figure out where the story is headed, but in all honesty, knowing what's going to happen actually makes 2 Jennifer more fun to watch – building greater anticipation for what you know is coming, but the characters are oblivious to.
While To Jennifer primarily succeeds through character development and chemistry, 2 Jennifer's success is more situational driven, relying on the anticipation of what's coming and the great setups the characters are thrust into.
The acting in 2 Jennifer is strong from end-to-end. Johnson does a good job playing the unhinged psychopath and Coupe performs admirably as Mack, the straight-laced producer and somewhat naïve friend to Spencer. Mummert does a great job as the casted Jennifer and has some memorable moments with Mack. Also noteworthy, the contingent of "Jennifers" keep the story fresh, each contributing their own unique reaction to the escalating absurdities coming out of Spencer's mouth as the film progresses.
Mack's two roommates and Charlie (Charles Chudabala) Denis (Matt Holbrook) add color to the story – Charlie's ranting about harnessing the energy from tornadoes to power impoverished countries was all too funny. Also memorable is the party at Bressack's house – the anticipation of knowing what's in store for Spencer and Mack when they confront Bressack makes the payoff well worth the wait.
2 Jennifer wouldn't be labeled as a horror film without having a dark side, which hits home in the latter part of the film, delivering in a big way. This film definitely a steps up the gore-factor when compared to its predecessor, which horror aficionados will appreciate.
The contingent of "Jennifers" keep the story fresh, each contributing their own unique reaction to the escalating absurdities coming out of Spencer's mouth as the film progresses.
Found Footage Reason
The found footage reason, meaning the reason why the characters decide to film everything, is fully justified throughout 2 Jennifer. Early on, we come to learn that the character Spencer is insane and he arbitrarily decides to film everything related to the filming of 2 Jennifer (including the gore) – how can one argue with the reasoning of an insane person?
Found Footage Cinematography
As explained in the To Jennifer review, don't be put-off by the fact that this film was created using an iPhone. The cinematic quality and camerawork in 2 Jennifer come across as professional, not appearing to have been filmed with a mobile device. Although 2 Jennifer is filmed primarily with an iPhone, the scene in the casting room appears to also employ a second camera source in the room, adding a different perspective to that particular scene.
2 Jennifer has one my found footage pet peeves, the addition of background music in specific scenes throughout the film – removing this film from the "pure found footage" category. Based on the placement of the music, it's purpose is clearly to ratchet up the tension. Although this added element violates one of the core canons of found footage, in this instance the music lends itself to the intentionally campy nature of the film itself.